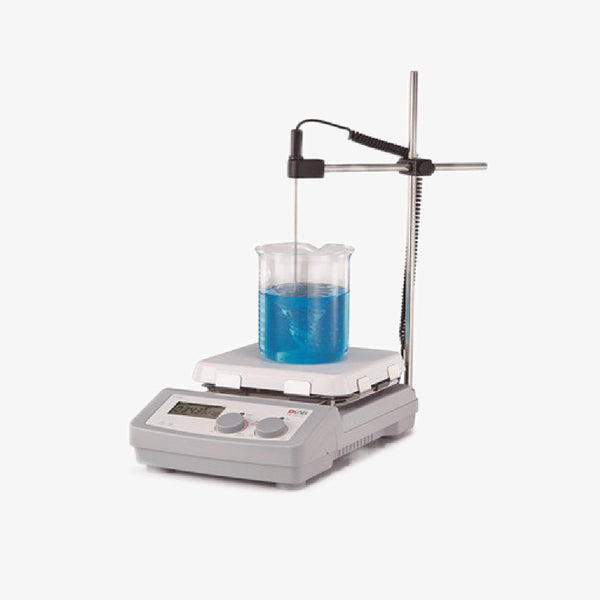 FREE
SHIPPING
100% MONEY
BACK GUARANTEE
ONLINE
SUPPORT 24/7
Sku:
MS7-H550-Pro-Package1
Specification
lnclude: MS7-H550-Pro (8030122111) + PT1000A(18900016)
Key Features
LCD display for precise monitoring of speed and temperature

Built-in PID controller ensures safe heating of the medium with overheating protection

Max. heating plate temperature 550°C

Glass ceramic work plate provides excellent chemical resistant performance and most efficient heat transfer

External temperature control is possible by connecting  the temperature sensor(PT1000) with an accuracy at ±0.2°C

Digital speed controlling, max. speed at 1500rpm

Outstanding brushless DC motor enables more stirring power

Two rotating knobs enable easy adjustment of speed and temperature

The "HOT" warning will flash when the work plate temperature is above 50°C even when the hotplate is turned off

Remote function provides PC control and data transmission
Specifications
Specification
MS7-H550-Pro
Work plate Dimension [W * D]
184 * 184mm (7 inch)
Work plate material
Glass ceramic
Motor type
Brushless DC motor 
Motor rating input/output
18W/10W
Power
1050W
Heating output
1000W
Voltage
100-120/200-240V  50/60Hz
Stirring positions
1
Max. stirring quantity, [H2O]
20L
Max. magnetic bar[length]
80mm
Speed range
100~1500rpm
resolution ±1rpm
Speed display &Temperature display
LCD
Heating temperature range
Room Temp.-550°C, increment 1°C 
Temperature  control accuracy
±1 °C (<100°C) ±1%(>100°C) 
Overheating protection
580°C
Temperature  display accuracy
±0.1°C
External  temperature sensor
PT1000 (Accuracy ±0.2)
"Hot" warning
50°C
Data connector 
RS232
Protection class
IP21
Dimension [W*D*H]
215*360*112mm
Weight
5.3kg
Permissible ambient temperature and humidity
5-40°C, 80%RH
When can I expect my order to ship?
Most orders are filled and shipped within 2-3 business days from the time they are received.
Our standard shipping usually take 2-5 days.
We also provide express shippping for time-sensitive deliveries. 
Email contact@biofargo.com if you have any requirements.