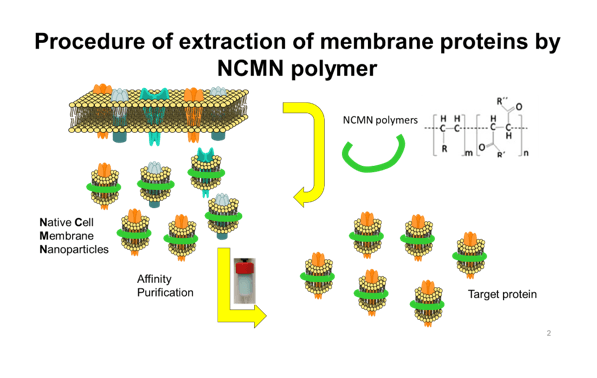 FREE
SHIPPING
100% MONEY
BACK GUARANTEE
ONLINE
SUPPORT 24/7
Revolutionize Membrane Protein Purification with NCMN Sys1
Discover a cutting-edge approach to membrane protein purification with our Native Cell Membrane Nanoparticle (NCMN) System. Unlike conventional methods that rely on disruptive detergents, our innovative NCMN Sys1 harnesses the power of proprietary NCMN polymers to gently extract membrane proteins while preserving their vital lipid environment.
Key Advantages:
Preserving Protein-Lipid Associations: Traditional methods often disrupt essential protein-lipid interactions critical for structure-based drug discovery. With NCMN Sys1, you maintain these crucial associations intact.

Fast, Simple, and Cost-Effective: Our system offers a rapid, user-friendly, and cost-efficient solution for membrane protein purification, making it ideal for routine laboratory applications.

Comprehensive Analysis: Membrane proteins purified using NCMN Sys1 are primed for a wide range of downstream biophysical and biochemical analyses, ensuring the versatility you need.

Quality Assurance: Evaluate sample quality with confidence through single-particle cryo-electron microscopy (cryo-EM) analysis.
Efficiency at Its Best:
NCMN Sys1 is engineered for swift and high-quality preparation of membrane protein samples. In many cases, a single affinity column purification step suffices. If needed, a secondary size exclusion column purification can be employed to eliminate residual impurities and fine-tune your sample.
Experience a revolution in membrane protein purification with NCMN Sys1—your gateway to streamlined, high-quality results.
Kit Contents
NCMN S1 Kit

Catalog no.

(1)

27104

(2)

27106

 

 

 

Buffer A

300 mL

600 mL

 

 

 

Buffer B

100 mL

200 mL

Buffer C

100 mL

200 mL

Buffer D

100 mL

200 mL

Buffer E

200 mL

400 mL

NCMN Sys1

12.5 mL

25mL


Storage
NCMN Sys1 should be stored at a cold temperature (2–8°C). Under these conditions, NCMN Sys1 can be stored for up to 12 months without showing any reduction in performance and quality.
Intended Use
NCMN Sys1 is intended for membrane protein purification with HIS-TAG. Other affinity chromatography will be available soon. These products are not intended to diagnose, prevent, or treat diseases in human subjects.
We recommend that all users of NCMN Sys1 products adhere to the NIH guidelines for general laboratory practice with personal protection.
Safety Information
When working with chemicals, always wear a suitable lab coat, disposable gloves, and protective goggles. Please consult the appropriate safety data sheets (SDSs) for more information. These are available online in convenient and compact PDF format at www.ncmntech.com/safety, where you can find, view, and print the SDS for NCMN Sys1.
If the liquid containing these Buffers is spilled, please clean the area with suitable laboratory detergent and water. If the spilled liquid contains potentially infectious agents, clean the affected area first with laboratory detergent and water and then with 1% (v/v) sodium hypochlorite.
Quality Control
Each NCMN Sys kits has to past test against predetermined specifications to ensure consistent product quality by NCMN Sys Quality Management System.
Principle
The NCMN Sys1 procedure is based on the amphiphilic structure of copolymers, which can extract and maintain the membrane proteins in their native membrane environment.  
The procedure consists of 3 basic steps:
Preparation of the pure membrane fractions.
Extract membrane proteins in the form of NCMN particles.
Purification of NCMN particles
Equipment and Reagents to Be Supplied by User
When working with chemicals, always wear a suitable lab coat, disposable gloves, and protective goggles. For more information, consult the facility safety office's appropriate safety data sheets (SDSs).
Standard biochemistry equipment for purification of proteins (e.g., various centrifuges, shakers, SDS-PAGE gel equipment)
FPLC
General laboratory chemicals.
Razel Scientific Instruments: Razel variable speed syringe pump (Razel scientific Inc R210) for loading the sample at room temperature if preferred.
Important Notes
Please read the following notes before starting any of the NCMN Sys1 procedures. 
Cell pellets and membrane
Make sure the cell pellets are sufficient for further purification. E.g. 1 g of membrane fractions, need about 10 g of cell pellets.
Do not put the cell debris from the centrifuge bottom into the new tube for ultracentrifuge, which can cause an impure membrane.
NCMN Sys1 needs to start from a pure cell membrane to get the best results.
Document:
When can I expect my order to ship?
Most orders are filled and shipped within 2-3 business days from the time they are received.
Our standard shipping usually take 2-5 days.
We also provide express shippping for time-sensitive deliveries. 
Email contact@biofargo.com if you have any requirements.