FREE
SHIPPING
100% MONEY
BACK GUARANTEE
ONLINE
SUPPORT 24/7
Uses:
Small Animal Ear Tag and labeling
Research/Lab Animals including Mouse, Rat, Fish, etc.
Introduction:

SMART Tager 3.0 is an innovative applicator, which allows for continuous and fast application of ear tags to lab animals for the purpose of labeling, category and management.

Unlike any other ear applicators, SMART Tager 3.0 is specifically designed, built for continuous ear tagging. One single load of ear tag strip is able to label 10 animals. Easy, Fast and Efficient!

We recommend using wet steam sterilization at 120-125C for at least 30 minutes in an autoclave to sterilize the SMART TAGER 3.0 applicator. SMART Tager 3.0 and tags can be sterilized for 1 hours by dry heat for 135 degrees centigrade, or use 75% alcohol and other disinfectants for immersion sterilization.

Descriptions:
Single ear tag one side: 6.85mm length x 3.85mm width
Single ear tag inside: 5.65mm length x 2.55mm height
Short instructions: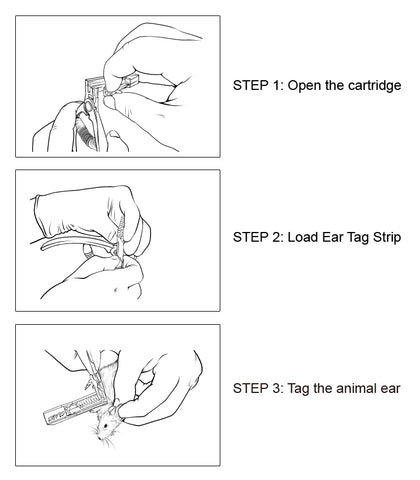 When can I expect my order to ship?
Most orders are filled and shipped within 2-3 business days from the time they are received.
Our standard shipping usually take 2-5 days.
We also provide express shippping for time-sensitive deliveries. 
Email contact@biofargo.com if you have any requirements.