FREE
SHIPPING
100% MONEY
BACK GUARANTEE
ONLINE
SUPPORT 24/7
Package Size: 100g ; 500g
CAS #: 1109-28-0
EC #: 214-174-2
Chemical Name: Maltotriose
Other Names: α-D-Glc-(1→4)-α-D-Glc-(1→4)-D-Glc
Formula: C18H32O16
Molecular weight: 504.44
Chemical Structure: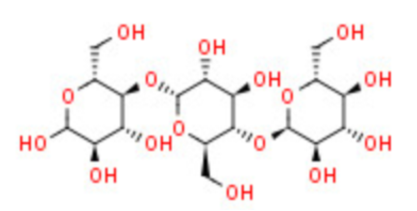 Maltotriose is a trisaccharide consisting of three glucose molecules linked with α-1,4 glycosidic bonds.
Typical Properties: Form: White solid Purity: 97% Min Storage Temperature: Ambient / refrigerate / freeze
For research purposes only. Not intended for drug or household uses.
When can I expect my order to ship?
Most orders are filled and shipped within 2-3 business days from the time they are received.
Our standard shipping usually take 2-5 days.
We also provide express shippping for time-sensitive deliveries. 
Email contact@biofargo.com if you have any requirements.